Today's modern productive world relies on different types of SaaS (cloud-based applications). It is not only affordable but also allows you to access the service from anywhere, anytime. Mailchimp, for example, is a great example of SaaS, you can use it to send bulk emails to your customers. Similarly, we use Google Workspace for our small business because it is an all-in-one collection of different cloud-based applications. From email management to cloud storage, it offers a wide range of services in one package. If used correctly, it can do wonders for your business. Let's learn more about Google Workspace.
What is Google Workspace?
Google Workspace (formerly G Suite) is a professional solution by Google Cloud that is designed to boost productivity and collaboration of small to large size businesses. On top of that, Google Workspace has recently revamped the platform by adding core integration in many of its apps. As a result, the work done is now quicker comparatively.
When we talk about Google Workspace we talk about a collection of collaborative, cloud-based computing applications to enhance productivity, improve communications as well as a key component to improving branding.
What comes with Google Workspace?
1. Gmail (for Emailing)
Google Workspace offers Gmail and as we all know it is a popular (owns 23% share) email service. Gmail is a smart, clean, and secure web-based email solution to have one-on-one conversations with your clients and customers.
Now, one of the advantages of using Gmail with Google Workspace is branding. You can use the service to create professional emails for your team using your company's domain name.
Suppose your company's domain name is example.com and you wanted to create professional emails for your sales, contact, or marketing, you can easily do it with Google Workspace. Some of the examples are
sales@example.com
support@example.com
john@example.com
You can create a maximum of 300 users (professional email addresses) in all the plans except Enterprise plans. In addition, you can create 30 email aliases for each user at no extra cost.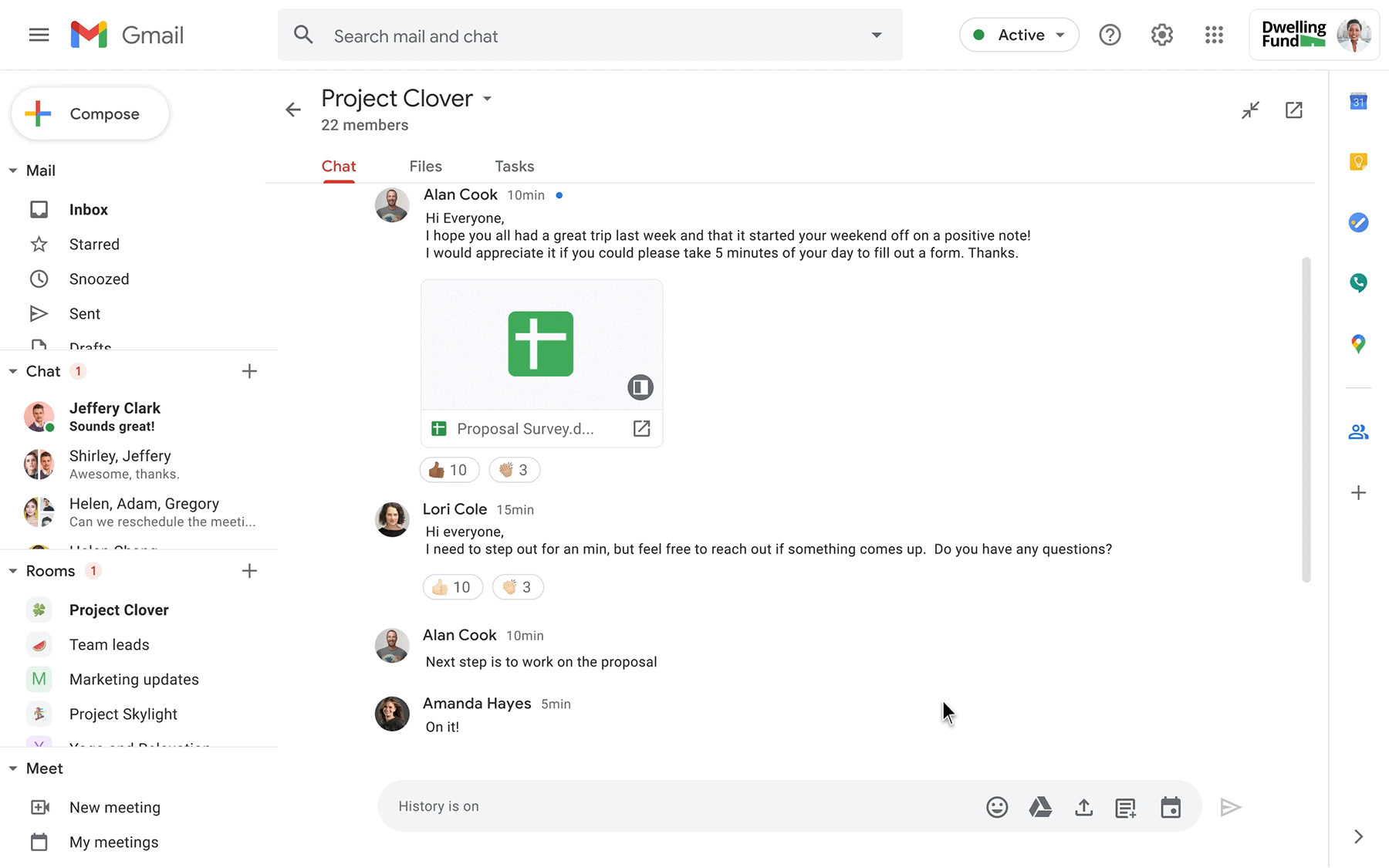 With the recent changes, you can now create and share documents, make conversations with your team, right from your Gmail. These subtle changes make workflow easier than before.
Here are some additional Gmail features
Ad-free experience
More cloud storage
Free alias and forwarding rules
Protection against spam, phishing, & malware
2. Docs and Sheets (for Documents and Spreadsheets)
Quickly access, edit, and share your documents without installing any software on your local computer is made possible by Google Docs. You can edit all major formats that supports Microsoft Word, Excel, PDF file (.docx, .doc, .csv, .html, .pdf, .rtf, .txt, xlsx, .ods).
Docs creates a great user experience with some unique features such as
Real-time editing with your team
Get instant feedback from your team
Convert files to one another
Turns spreadsheet data into beautiful charts
Works offline with your Chrome browser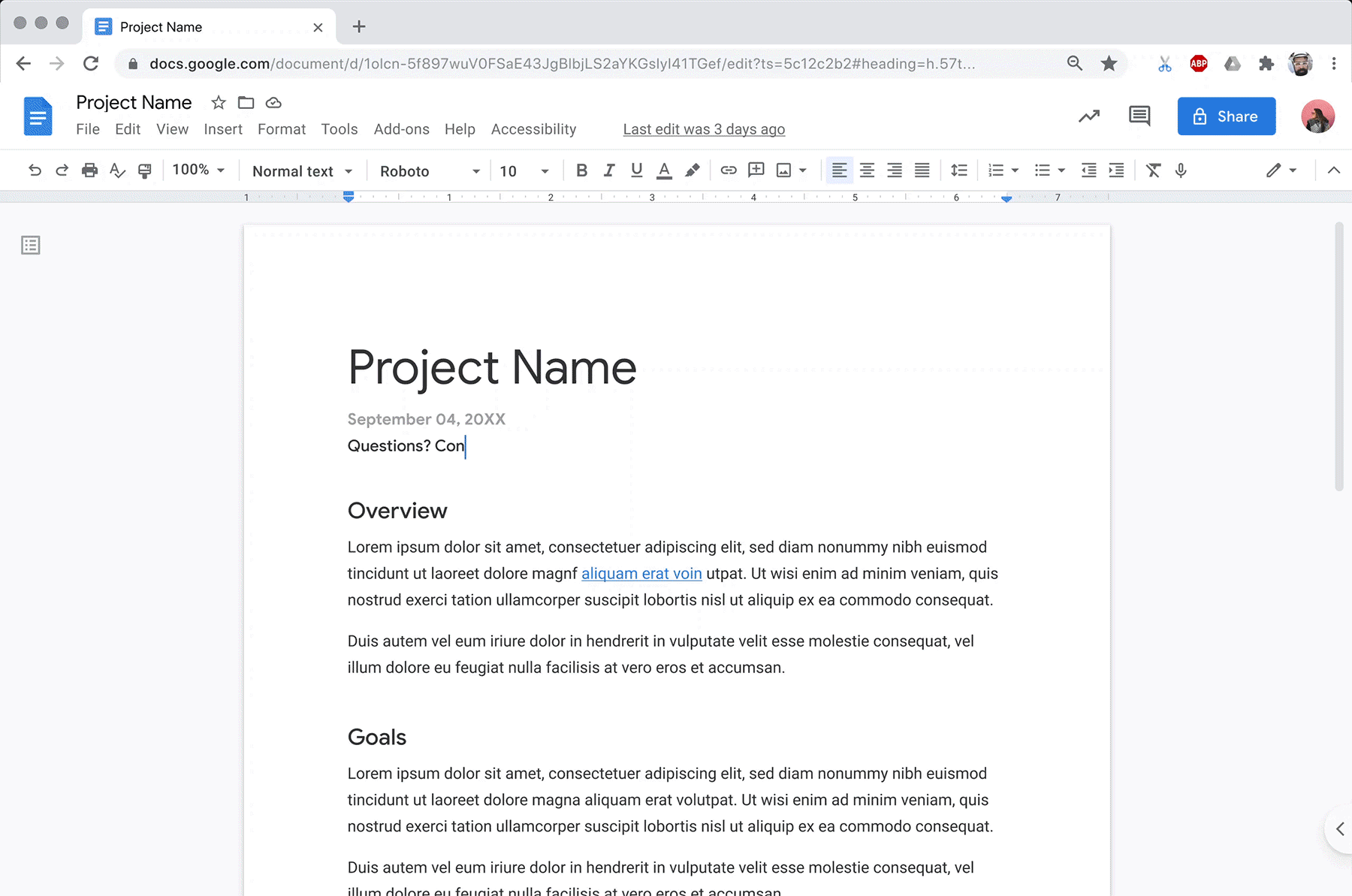 Now with the latest release, you can get a preview of a PPT presentation in your Google Docs just by clicking on the file link without leaving the tab. Also, you can use @mention to tag your team to ask for suggestions or feedback.
3. Drive (for Storage)
Google Drive is the fastest, secure, and complete storage solution for any type of business. You can upload any type of file on your Drive storage and download it whenever you want.
Any file you upload to your Drive can be accessed from other apps too (thanks to integrations). This way, you can attach a heavy size file to your Gmail using Drive. Moreover, the search feature is very powerful as you can search any file regardless of its name. For example, if you search for the phrase "Flower", it will return a result of all the files contain flowers. This is a useful feature if you have thousands of files or if you are an unorganized Drive user.
Advanced features
Automatically scans virus (for file size less than 100MB)
Guaranteed data loss prevention
Full control over file sharing
Integration with other apps
There are different storage options available as per your need. As you can see in the chart above, the Starter plan comes with 30GB storage/user which is 2X more than personal storage (15GB). The Standard plan has 2TB storage/user followed by the Plus plan which has 5TB storage/user capability. Finally, the Essentials plan has an unlimited storage option.
4. Calendar (for Smart Scheduling)
From scheduling to reminding, Calendar can perform any kind of task. Likewise, it works with other Google Workspace apps (such as Gmail, Drive, Meet, etc.) thanks to the seamless integration. The greatest advantage of Google Calendar is that it lets you create multiple calendars (for team holidays, calls, birthdays) for each user.
Personalize Experience: You can always personalize your Calendar to show your working hours to your coworkers and clients. This will automatically remind them if you are out of your working hours. You can do more such as setting holidays, personal reminders, and creating daily tasks.
Grouping: Google Calendar can help you to appoint a meeting with your team on Google Meet on a specific date and time. You can also add details of the meeting right in your Calendar. This feature will remind all of your coworkers who have accepted the invitation before time runs out.
Calendar works on any modern browser as well as on Android, iOS platforms.
5. Admin Console (for Full Control)
With Google Workspace, you get Admin Console, which isn't an app, instead, it is a control panel to manage your administrator account. If you own more than 0ne company domain name, you can add it in your Admin Console too.
Admin Console is useful to perform various tasks such as
Add and remove users (Admin only)
Manage your apps (enable and disable various features)
Improve security (like enabling 2-step verification)
Get highlight of all the storage usage, login reports, apps logs, etc
Create various groups for your company
Get monthly billing invoices
We really like to point out the "search" feature of the Admin Console. You can search for any setting right in the search bar and it will take you to the desired page. You can also get dedicated 24/7 support from the Google Workspace team via phone call, chat, and email.
6. Additional Google Workspace Apps
Chats: Make meaningful real-time meaningful conversations with your team using Google's AI-powered messenger Google Chats. Create rooms, groups, and send files.
Forms: Create beautiful survey forms for your business to receive valuable feedback. Embed it on your webpage or simply automate it with any app, it just works. Forms also help you analyze data later and you can also export the data to Sheets.
Meet: Meet helps you to create secure online video conferences with your team, clients, or any other Google customers who are outside Google Workspace. As part of the integration, you can create a Meet event in Google Calendar and send it out via Gmail. Also, the features like dial-in phone number, Meet makes it even easier to make voice calls.
Get Started with Google Workspace
To get a Google Workspace account, you need to have a domain for your business. If you don't have one, you can get it from Godaddy, Namecheap, or any other registrar. After getting the domain name for your business, you can signup for a Google Workspace account.
Creating Google Workspace Admin Account
1. Head over to the Google Workspace website and click on the "Get Started" button or start free 14-days trial.
2. Select the plan that best fits your business, we recommend the Business Plus for medium-size businesses.
3. Enter your business name in the next step along with your country. This step helps Google Workspace to serve you better.
4. Furthermore, fill in the detail of the Google Workspace administrator such as first and last name along with the current working email address. It will automatically be assigned as Admin Account for your business.
5. If you already have your business domain name (example.com), you can choose YES or if you don't have one, you can register it from any registrar such as Godaddy, Namecheap.
6. Enter your business domain name and click next to proceed further. This step helps you to create professional email addresses for your domain name.
7. After you enter the domain, you will get a confirmation message. The same domain name will be used to login as your admin account later.
8. Finally, create log-in credentials for your admin account. You can choose any username and password of your choice. Remember, "the username you create will act as an email address later".
9. Now you have successfully created your Google Workspace account. You will see a confirmation message as shown below.
Setting up your Account
In order to use Google Workspace services, you will have to verify the ownership of the domain name. Google Workspace has made it very simple to set it up. Just follow the steps below and you are good to go.
1. Log in to your Google Worskapce Admin Console using the same email address and password you have just created.
2. After you log in successfully, you need to accept all the terms of service and privacy policy.
3. In the Admin Console, you will see a popup that helps you to set up your domain quite easily.
4. You can now verify your domain name using various methods. However, we would encourage you to go with TXT verification as it is much easier.
5. Just select the TXT verification method and hit the Continue button.
6. Next, go to your domain's registrar DNS settings and copy the TXT value from Admin Console to your domain's DNS TXT record.
7. After that copy all the MX records to your domain's DNS and hit verify button. The TXT records verify the ownership of the domain and the MX record enables sending and receiving emails. Once done, Google will verify all the records and show confirmation as shown below.
Now you can start using all Google Workspace services.
Adding Additional Users
If your business requires more users/teammates to work with, you can add more users for your business such as sales@example.com, marketting@example.com. If you are on 14 days trial, you can add up to 10 users for free. If you are paid user, you can add up to 300 users.
1. To add additional users, log in to your Admin Console → Users
2. Start adding users using their first name, surname, and email address. You can also create up to 30 email alias per user at no extra cost.
Apply Promo Code and Save 10%
Google Workspace offers an exclusive promotion code for new businesses to save 10% on each user for 12 months. You can request a Google Workspace promo code from us by filling up a form. After you receive a promo code from us, just go to your Admin Console and follow the steps below.
1. Go to the Billing section from your admin console and click set up billing
2. Finally, you need to apply your promo code to save 10% of your total subscription bill.
3. Once applied successfully, you will see a confirmation message. If you receive any error, refer to this page to get it fixed.
Finally, pay the final amount using your preferred payment method and you are all done with the setup process.
Plans Comparison and Pricing
Google Workspace is available in three different subscription plans. Depending on your requirements and the number of employees in your firm you can opt for any one of these subscription plans. In the next section of this article, we have shared details about each subscription plan of Google Workspace.
1. Business Starter ($6 per month)
The first and the most affordable Google Workspace subscription plan is Business Starter. As the name of this plan suggests, it's ideal for the basic usage of Google's suite of applications. You can opt for Business Starter if you are just starting out and your team is quite small. Using this basic plan you can set up a business email through Gmail. Furthermore, you get access to every essential tool and services such as
In comparison to a free Google account, a Business Starter plan offers double the amount of Google Drive storage i.e. 30GB. Despite being the basic version of Google Workspace, Google hasn't cut any corners in the security department. With Business Starter, you get enterprise-grade access control with security key enforcement.
Pricing: The Business Starter subscription plan costs $6 per month for each user. We advise our readers to opt for this plan as it has everything startups and small-scale businesses need. However, depending on the growth of your company, later down the road, you can upgrade to the Business Standard or Business Plus plans. Savings of up to 10% can be made by opting for the annual subscription offer.
If you have a team of ten employees then the Business Starter plan will cost you around $60/month.
2. Business Standard ($12 per month)
Business Standard is a mediocre subscription plan of Google Workspace. As you might have guessed, it comes with every single feature of Business Starter. That said, there are many nifty features of the business version of Google Workspace that make it a worthy upgrade. For instance, instead of 30GB Google Drive cloud storage, you get 2 TB of cloud storage per user which is an immense amount of storage already. Here is the list of top features
Cloud Search: Another noteworthy upgrade that the Business Standard plan offers is Cloud Search. The name says it all, Cloud Search can be used for searching the company's content. No matter what's the file type or which Google service was used to create it, cloud search will instantly show results based on the keyword you used. Furthermore, this searching tool also showcases the security models of your organization.
Pricing: The monthly subscription of the Business Standard plan costs $12 per user. For a team of ten users, you will have to pay $120 per month.
3. Business Plus ($18 per month)
The Business Plus plan from Google Workspace sets a high-level standard for your business. The major benefit of the Plus plan over others is the advanced endpoint management, Vault, and Secure LDAP. In other words, you would want to upgrade to a Business Plus plan if you need more security and control over your data. Here are some highlighted features
Google Vault: Google Vault in Business Standard plan allows business owners to securely maintain backups and archive their important data. The eDiscovery and email archiving tool also come in handy for maintaining the records of employees or teammates who have left your company.
Secure LDAP: This feature helps you to connect your LDAP-based applications easily and securely with your Google Workspace. Click here to learn more
Pricing: The monthly subscription of the Business Standard plan costs $18 per user. For a team of ten users, you will have to pay $180 per month.
4. Enterprise
Enterprise plan has every single service and tool that comes with Starter, Standard, and Plus plan. This highest-tier subscription plan offers some interesting upgrades that justify its pricing. For enhanced management, Google offers 24/7 standard support for the basic and business editions. On the other hand, the enterprise edition gets 24/7 priority support. Moreover, the Enterprise plan offers a designated Google advisor for a minimum of 1000 seats.
Data loss prevention: There are many additional security and administration controls in the enterprise edition like Data loss prevention for Gmail, Gmail logs analysis in BigQuery, Data loss prevention for Drive, and the ability to integrate Gmail with compliant third-party archiving tools. Clearly, these useful features are a necessity for large-scale companies.
Security: In the enterprise edition, Google pays a lot of attention to the security of Google Workspace. The plan also comes with Cloud Identity. This utility helps a company to establish multi-factor authentication, maximize end-user efficiency, protect company data, DLP, and transition to a digital workspace.
Data regions: This feature drastically improves the latency of the cloud server as you can manually choose the location of the data center for your business.
Pricing: To get the pricing of Enterprise edition please contact sales here.