Efficient communication is vital for business success, and Google Workspace email stands at the forefront, offering a sophisticated, professional email solution. Google Workspace email is basically a paid version of Gmail for business with hundreds of productivity and collaboration features.
Trusted by over 6 million businesses, it's not just an email service; it's a productivity powerhouse. In this article, we'll explore the integral features that make Google Workspace email a smart choice for businesses seeking growth and collaboration.
Here is the main outline of Google Workspace Gmail
Part of Google's organization
Made for professional businesses to generate productivity
Integrated apps that make workflow much easier than ever
What makes Gmail different from competitors?
Google Workspace Gmail is Part of the Workspace Suite
Google Workspace Email (Gmail) is not merely an emailing platform; it's the heartbeat of a suite designed for seamless communication and efficiency. As an integral component of Google Workspace, it offers a cohesive and streamlined experience for professionals. Let's dive into the details of how being a part of Google Workspace elevates email to a new level of efficiency.
Seamless Integration for Peak Productivity
Firstly, the synchronization across the entire Google Workspace suite is nothing short of remarkable. Users benefit from a unified platform where emails can be managed alongside real-time document editing, seamless calendar scheduling, and instant messaging. This synergy enables:
A Unified Interface: With over 6 million paying businesses utilizing Google Workspace, the ability to access all tools from a single platform cuts down on time spent switching between apps, enhancing productivity.
Effortless Collaboration: Google's suite boasts compatibility with numerous file types, and its collaborative nature means that approximately 1.5 billion Gmail users can interact with Google Docs, Sheets, and Slides directly through their email.
Customization at Your Fingertips
Moreover, Google Workspace Email allows for extensive customization, which translates into a personalized email experience. This adaptability means:
Custom Domain Names: Over 75% of Google Workspace users take advantage of custom email addresses, reinforcing their brand identity and ensuring their business stands out.
Tailored Workflows: The ability to create filters, labels, and automated responses has been shown to improve time management significantly, making email management more efficient.
Designed for the Modern Workforce
Importantly, Google Workspace Email is designed for the way we work today. It supports remote and on-the-go productivity, a necessity given that 50% of the workforce is expected to be remote by 2023. This support is evident through:
Mobile Integration: Google Workspace mobile applications have been downloaded over 5 billion times combined, indicating the high demand for mobile accessibility in professional communication.
Cloud-Based Architecture: With a cloud-based system, users can access their email from any device, anywhere, ensuring they're always connected to their most critical communication channel.
Strengthened by Google's Infrastructure
Finally, Google Workspace Email benefits from Google's robust infrastructure, providing:
Reliability: A reported 99.9% uptime means businesses can rely on their email service round-the-clock, a critical feature for the 30% of professionals who cite email as their primary communication tool.
Enhanced Security: Given that 43% of cyber attacks are aimed at small businesses, the built-in security features of Google Workspace provide much-needed peace of mind.
Google Workspace Gmail General Features and Controls
Google Workspace offers Gmail and as we all know it is a popular (owns 23% share) email service. Gmail is a smart, clean, and secure web-based email solution to have one-on-one conversations with your clients and customers.
Google Workspace Gmail is not just another email service – it's a powerful tool designed specifically for businesses. It's packed with features that go beyond free Gmail capabilities, helping companies operate more efficiently and project a professional image. Let's take a closer look at these key business-centric features that give Google Workspace Email its professional edge.
One of the advantages of using Gmail with Google Workspace is branding. You can use the service to create professional emails for your team using your company's domain name.
Suppose your company's domain name is yourbusiness.com and you want to create professional emails for your sales, contact, or marketing, you can easily do it with Google Workspace. Some of the examples are
sales@yourbusiness.com
support@yourbusiness.com
john@yourbusiness.com
You can create a maximum of 300 users (professional email addresses) in all the plans except Enterprise plans. In addition, you can create 30 email aliases for each user at no extra cost.
Start setting up your Google Workspace email account today.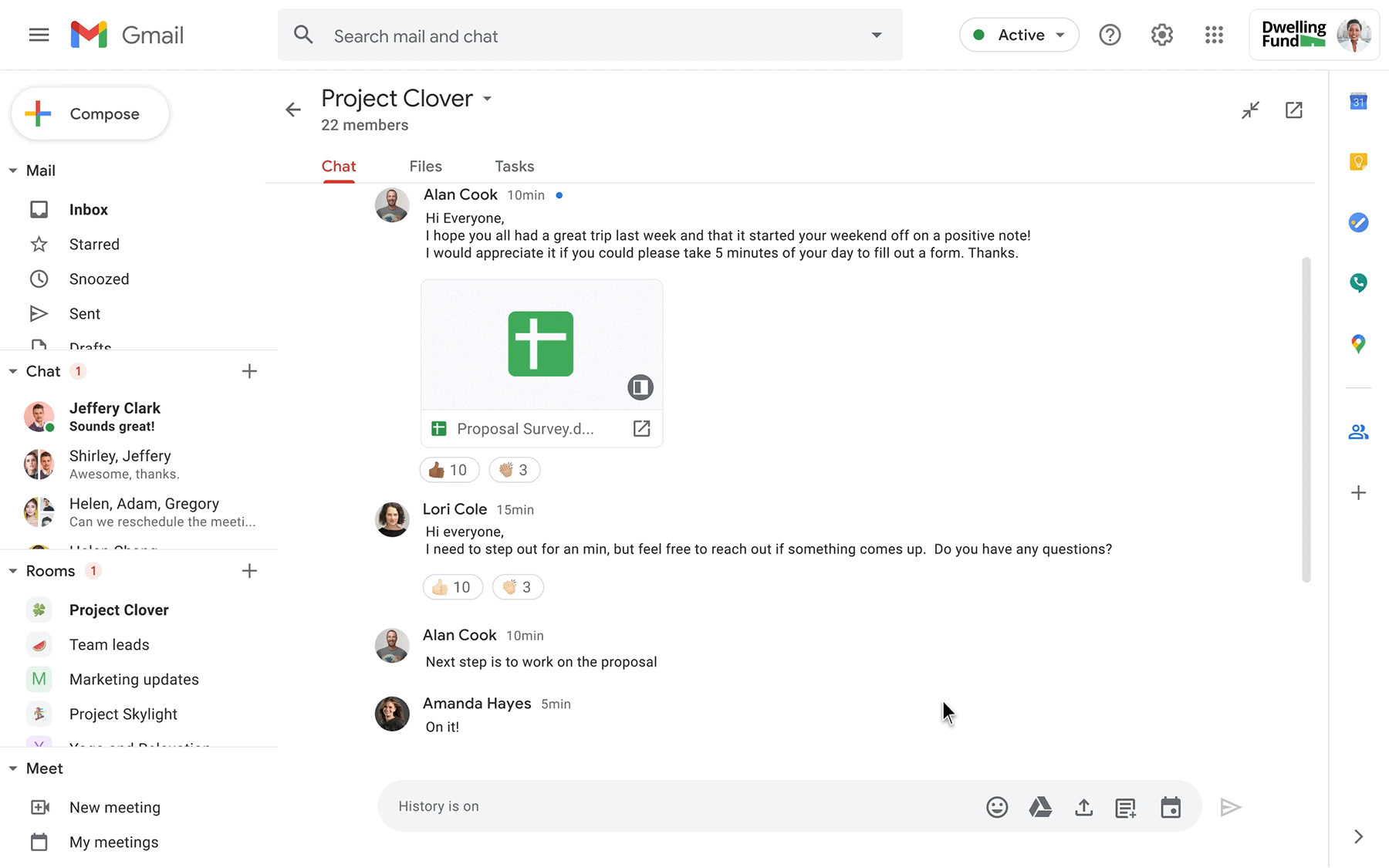 With the recent changes, you can now create and share documents, and make conversations with your team, right from your Gmail. These subtle changes make workflow easier than before.
Here are some additional Gmail features.
1. Expanded Storage Capacity for Emailing
Each user in the Workspace suite enjoys a default storage starting at 30 GB and scaling up to unlimited storage based on the plan chosen. Here is the storage capacity of each plan.
Business Starter Plan: 30 GB
Business Standard Plan: 2 TB
Business Plus Plan: 5 TB
Enterprise Plan: Unlimited
This is significantly higher than the 15 GB provided in the free Gmail service, ensuring businesses can manage vast amounts of data with ease. Even if you run out of 30 GB storage, you can always upgrade to higher plans. It will migrate all your previous data to high-storage servers.
2. Create up to 30 Free Email Aliases
Google Workspace Gmail lets you create email aliases for your team's primary email. For example, Rita is one of your team members. She has a primary email of rita@yourbusiness.com then she can have email aliases like,
sales.rita@yourbusiness.com
bills.rita@yourbusiness.com
rita.alias@yourbusiness.com or
anything@yourbusiness.com
All the email sent to either address goes to Rita's primary inbox.
This is the best way to collect all the emails in one place. This way you can create a public email address of your choice while protecting the privacy of your primary email. It also reduces the risk of phishing and you can always trace the source of the email alias.
Google Workspace Gmail lets you create up to 30 email aliases for each of your team members with any additional course. Only Admins can create email aliases.
3. Advanced Admin Controls
The advanced admin controls for Gmail in Google Workspace enable administrators to efficiently manage a company's email infrastructure, enforce security policies, and ensure that email usage aligns with the organization's operational and compliance needs.
These capabilities illustrate Google Workspace's commitment to providing a comprehensive, enterprise-grade email solution. Here is the full list of Admin controls over Gmail.
User Account Management

Create and manage user accounts, reset passwords, and handle account recovery options.
Assign and manage email aliases for individuals or departments, enhancing role-based communication.

Configuration and Security

Configure email routing and relay settings to control the flow of incoming and outgoing emails.
Set up Secure/Multipurpose Internet Mail Extensions (S/MIME) for encrypting emails to increase security.

Organizational Units

Create groups of email users into organizational units, allowing for the application of different settings and controls for different groups.

Access Controls

Implement role-based access, granting different levels of admin privileges to email users as needed.
Control email user access to other Google Workspace services from the Admin console.

Data Loss Prevention (DLP)

Create DLP rules to protect sensitive information and prevent its unauthorized sharing.

Compliance Settings

Set retention policies and holds for emails to comply with legal and regulatory standards.
Manage audit reports for tracking user activity and ensuring policy compliance.

Migration and Archiving

Set up and manage email archiving with Google Vault for eDiscovery and compliance.

Mobile Device Management

Enforce mobile security policies, remotely lock devices, and wipe data if necessary.
Manage mobile access to Workspace email, ensuring secure email communication on the go.

Customization and Integration

Integrate third-party applications directly into the Gmail interface with Google Workspace Marketplace.
Customize the appearance of the Gmail interface for the organization, including custom logos and color schemes.

Reporting and Insights

Access detailed reports on email usage, security incidents, and operational activity.
Monitor email traffic, measure internal collaboration, and identify potential threats.
With all these controls, Admin can manage the team with ease.
4. Enhanced Security Features
Security takes the forefront with features like
Two-factor authentication Gmail
Secure SSL/TLS encryption
Advanced spam filters.
Google machine-learning models block over 99.9% of spam, phishing, and malware from reaching users' inboxes.
5. Archiving and Retention Policies
Google Workspace Gmail allows the setting of custom retention policies, an essential feature for compliance. With Vault (for Business Plus and Enterprise plans), users can archive, search, and export their emails, which is crucial for legal and regulatory compliance matters.
6. Interoperability and Integration
Gmail can seamlessly integrate with other Google apps like Calendar and Drive facilitating a more collaborative environment. Users can join a video meeting in Google Meet or access files in Drive with just a few clicks from their Gmail inbox, underscoring the platform's dedication to efficiency.
More app integration later in this post.
7. No Advertisement Interruptions
Unlike the free version of Gmail, Google Workspace Email does not include ads, delivering an uninterrupted, professional experience that enhances focus and productivity.
8. Assured Uptime
Google's commitment to reliability is evidenced by their promised 99.9% Gmail uptime, minimizing the potential for costly business interruptions.
9. Professional Support
Subscribers have peace of mind with 24/7 access to Google's professional support via call, email, and live chat, ensuring any issues are promptly addressed.
Google Workspace Gmail Comes With Integrated Apps
Google Workspace Email is not just an email service; it's an integrated platform built to streamline workflows, enhance collaboration, and simplify management. Google has built an ecosystem of apps that work together to complete goals with ease. These apps are Drive, Calendar, Docs and Sheets, Meet, Keep, Chat, etc. Let's learn about a few of them.
Gmail Integrations with Docs and Sheets
Quickly accessing, editing, and sharing your documents without installing any software on your local computer is made possible by Google Docs. You can edit all major formats that support Microsoft Word, Excel, and PDF files (.docx, .doc, .csv, .html, .pdf, .rtf, .txt, .xlsx, .ods).
Now take these features to the next level by integrating with Gmail. But how?
1. Tag your team for suggestions for any doc: Add your Gmail contacts to any Google Docs using the @ sign followed by the name and Doc will search for all relevant names. This is an easy way to tag your team.
2. Make quick email drafts in Docs: You can draft an email in Google Docs and then directly send it through Gmail. This is particularly useful when you're collaborating on an email with others, as you can use the commenting and suggestion features in Docs before finalizing the email content.
3. Editing Gmail attachments on Docs: When you receive an attachment in Gmail, you can edit it directly on Google Drive or collaborate with others, all without leaving the Gmail environment.
4. Smart compose and auto-suggestions: Google Docs can offer writing suggestions based on the content of your Gmail messages, helping you to draft documents faster and more efficiently with fewer errors.
5. Commenting on Docs with email notifications: You can tag colleagues in the comments of a Google Doc using their email address, and they will receive an email notification. They can reply to the comment directly from their email, and the thread will be updated in Google Docs automatically.
6. Mail merge (send bulk mail at once using Sheets): Mail merge allows you to pull the contact data from your Google Sheets file and after that, you can send personalized emails through Gmail in bulk.
You can get data like @email @firstname @lastname etc. from your Spreadsheet.
Now with the latest release, you can get a preview of a PPT presentation in your Google Docs just by clicking on the file link without leaving the tab. Also, you can use @mention to tag your team to ask for suggestions or feedback.
7. Embedded Google Docs in emails: You can insert snippets or entire Google Docs directly into an email. Recipients can preview the document content within the email itself, which can be very convenient for quick reviews or information sharing.
Now these are the highlighted Gmail integrations for Docs & Sheets, here is some integration of Google Workspace Gmail and Drive.
2 Gmail Integration with Drive
Google Drive is the fastest, secure, and complete storage solution for any type of business. You can upload any type of file on your Drive storage and download it whenever you want.
Any file you upload to your Drive can be accessed from other apps too (thanks to integrations). This way, you can attach a heavy-size file to your Gmail using Drive. Moreover, the search feature is very powerful as you can search any file regardless of its name or format just by describing the file. For example, if you search for the phrase "Flower", it will return a result of all the files containing flowers. This is a useful feature if you have thousands of files or if you are an unorganized Drive user.
Drive is integrated with Gmail and they make life much easier. Let us explain how.
Google Gmail and Google Drive are tightly integrated, allowing users to efficiently manage and share information between the two services. Here are some key integrations that exist between Gmail and Google Drive within Google Workspace:
1. Save Email Attachments Directly to Drive and Automate Backup: You can save attachments from Gmail directly to Google Drive with a single click. This feature is useful for organizing documents and keeping your email storage in check.
You can also set up Google Drive to automatically back up certain email attachments from Gmail, which is particularly useful for businesses that regularly receive invoices, receipts, or other important documents via email.
2. Attach Huge Size Files to Gmail Using Drive: Normally Gmail user gets to upload 25 Mb of file size and receive 50 Gb of file size. Instead of attaching such small files, Gmail prompts users to upload the file to Google Drive and then share a link to the Drive file within the email.
This method supports larger files, up to the limit of your Google Drive storage. Likewise, you can also receive 50 Mb or above Gmail attachments, if the sender has Google Workspace access.
3. Send Drive Files to Mail and Set Permissions: When composing an email in Gmail, you can insert files directly from Google Drive using the Google Drive icon in the Gmail compose window. This allows you to send files as either Drive links or traditional attachments (as mentioned above), depending on the recipient's email domain and your sharing settings.
If the recipient does not have the necessary permissions to view the file, Gmail will prompt you to change the sharing settings before sending the email, ensuring the recipient will have access.
4. Searching for Drive Files Directly in Gmail: The Gmail search bar not only allows you to search for mail archives but also the files in your Google Drive. This can be particularly useful when you remember discussing a file in an email but don't remember where the file is stored in your Drive.
5. Recieve Drive Activity Notifications Right in Your Mailbox: If you are a hyper Gmail user and don't use Drive either, you can always know what is happening to your files. You can receive notifications in Gmail when someone requests access to a file you own when they share a file with you, or when there are suggested edits or comments on a shared document in Drive. No need to check Drive constantly for it.
6. Add-Ons and Extensions: Various add-ons and extensions can be installed to bridge Gmail and Google Drive even further, such as project management tools that attach Drive documents to project tasks within Gmail or scripts that automate document creation from email content.
Check more Google Workspace market apps that can improve workflow.
3 Calendar (for Smart Scheduling)
From scheduling to reminding, Calendar can perform any kind of task. Likewise, it works with other Google Workspace apps (such as Gmail, Drive, Meet, etc.) thanks to the seamless integration. The greatest advantage of Google Calendar is that it lets you create multiple calendars (for team holidays, calls, and birthdays) for each user.
Google Calendar and Gmail are well integrated, offering several features that enhance scheduling and communication within the Google Workspace suite. Here are some notable integrations:
1. Create an event on Calendar from Gmails
Google Calendar can automatically recognize dates and times in emails and suggest adding them as events to your calendar. When you receive an email mentioning a date or time, a small calendar icon often appears, and with a click, you can create an event that includes the details from the email.
2. RSVP to invitations via Gmail: When you receive a calendar invitation in Gmail, you can RSVP directly within the email without needing to go to Google Calendar. Your availability and response status are updated immediately.
3. Email reminders for Calendar events: You can set up Google Calendar to send you email reminders for upcoming events. This ensures you receive notifications in Gmail ahead of your scheduled events.
4. Smart rescheduling and event change suggestions via Gmail: When rescheduling an event in Google Calendar, you can automatically notify all attendees of the change via email, with the option to add a message explaining the rescheduling. If an event is updated, canceled, or moved by someone else, Google Calendar can send an email notification to inform you of the change.
5. Attach documents to Calendar events: You can attach Google Drive documents, such as Google Docs, Sheets, or Slides, directly to Calendar events. Attendees can view these attachments only from the calendar invite in their Gmail.
6. Calendar widget in Gmail: Gmail includes a Google Calendar sidebar widget that allows you to view your upcoming events and schedule new ones without leaving your inbox.
7. Finding a time feature on Gmail: When scheduling a meeting with multiple people via Google Calendar, you can use the "Find a Time" feature, which suggests times when all participants are free. After finding a time, you can send an invitation that lands in the invitees' Gmail.
8. Flight and hotel reservations on Calendar via Gmail: Gmail can automatically add travel reservations like flights and hotel bookings to your Google Calendar. These details are often extracted from confirmation emails you receive in Gmail.
9. Bill due reminders on Gmail: If you receive a bill via email in Gmail, Google Calendar can recognize this and add a reminder to your calendar before the due date.
10. Gmail events in Calendar search: When searching in Google Calendar, you can also find events created from Gmail, providing a unified search experience across Google Workspace applications.
11. Creating Calendar tasks via Gmail: You can create Google Tasks directly from Gmail messages, and these tasks appear alongside your calendar events on Google Calendar, aiding in time management and project planning.
Calendar works on any modern browser as well as on Android, and iOS platforms. Moreover, Gmail can also integrate with Meet, Chat, and other apps too.
What Makes Google Workspace Gmail Different From Competitors?
Real-Time Collaboration
Firstly, the seamless integration of Google Docs, Sheets, and Slides with Workspace Email allows teams to work on documents simultaneously. Consider these compelling numbers:
A single Google Doc can support up to 100 concurrent users, making it a powerhouse for teamwork.
This functionality transforms the way we interact with email, from a mere communication tool into a dynamic workspace.
Streamlined Communication
Secondly, Google has revolutionized email's role in project management. With the smart integration of Google Chat within emails:
Users reduce back-and-forth by 50%, as per Google's efficiency studies.
Teams can start a chat or a video call right from their inbox, effectively reducing the email overload by 20%.
This means decisions are made faster and more efficiently, without the need to switch between multiple platforms.
Shared Calendars and Scheduling
Furthermore, the inclusion of shared calendars is a game-changer. Statistics highlight that:
Employees spend up to 4.8 hours a week scheduling meetings.
Google Workspace's smart scheduling cuts this time by 30%.
By suggesting suitable times for all participants, Workspace Email mitigates the tedious back-and-forth often associated with meeting coordination.
Secure Access Anywhere
Importantly, Google Workspace Email's cloud-based infrastructure offers:
99.9% availability, ensuring teams are connected around the clock.
Secure access from any device, as 60% of corporate employees use three or more devices daily.
This accessibility reinforces continuity and ensures that collaboration is constant and uninterrupted.
Easy Information Flow
Lastly, most of us are familiar with Gmail's powerful search capabilities and organized labels.
Gmail smart labels employ machine learning algorithms to automatically categorize incoming emails into predefined categories such as Social, Promotions, Updates, and Forums, thereby streamlining inbox organization. This feature enhances user efficiency by filtering out less important messages and highlighting emails that require immediate attention. Users can quickly navigate and manage their inboxes, as Smart Labels prioritize email content relevance, saving time and reducing clutter.
An estimated 75% of users find information faster than traditional email services.
It cuts down the time spent searching for emails by half.
This efficiency means that information is at the team's fingertips, ready to be shared and discussed within moments.
Conclusion
In essence, Google Workspace email is not just about sending and receiving messages. It's a rich, interactive platform designed to break down silos and enable teams to collaborate effectively. By leveraging real-time editing, integrated communication tools, shared scheduling, ubiquitous access, and efficient information retrieval, Gmail stands out as an essential ally in the pursuit of collective productivity and innovation.